Any Screen Recorder for Mac OS X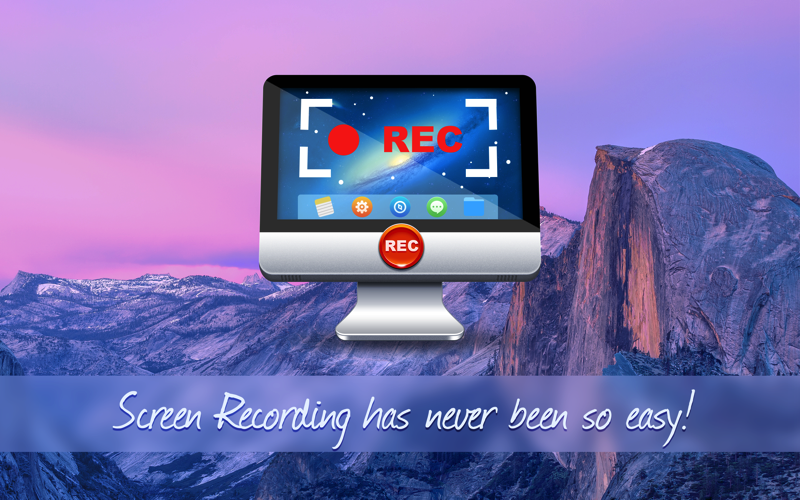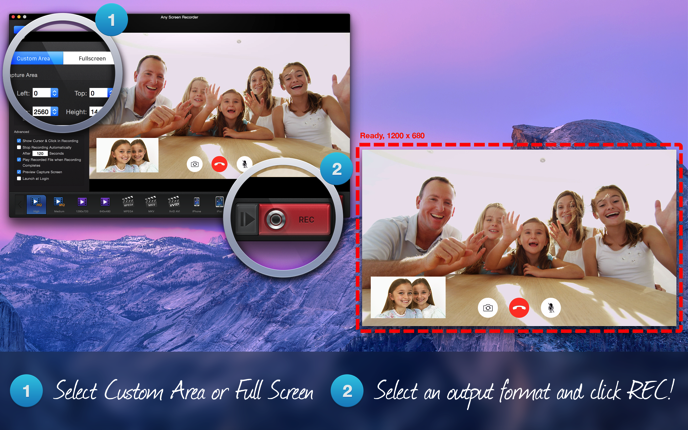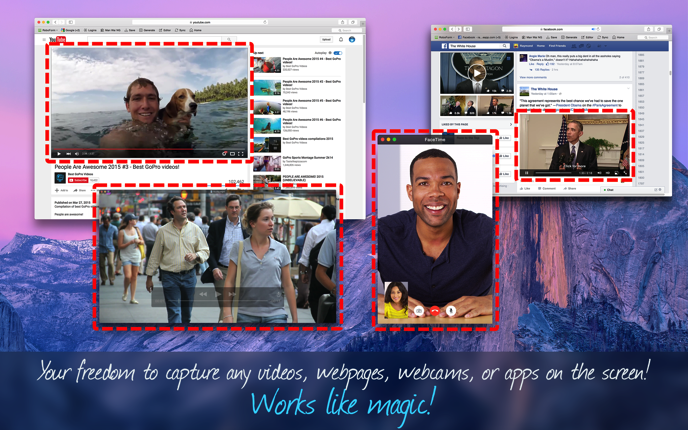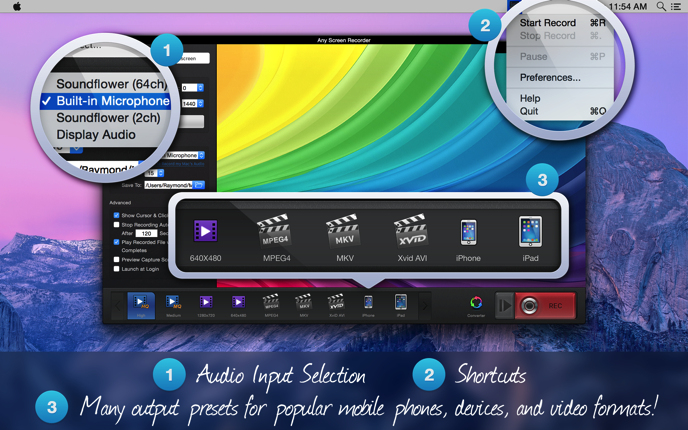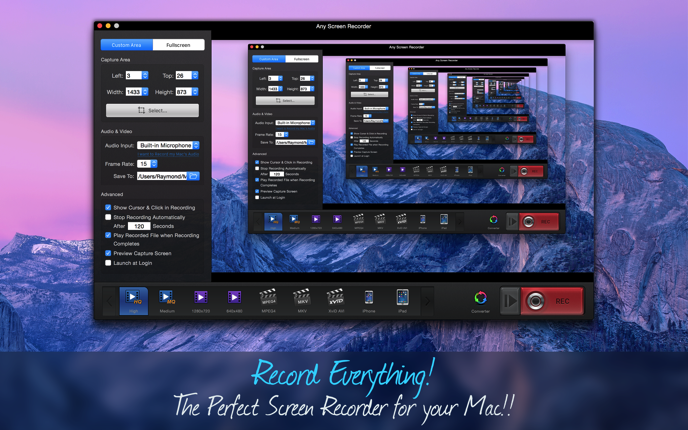 It Just Work
The recording process is as easy as 1-2-3.
Download your free version today!!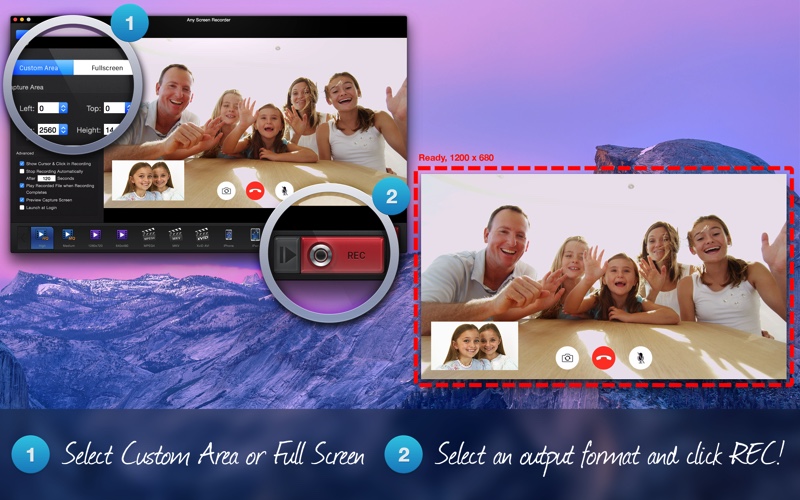 »
Any Screen Recorder is the Best Screen Capture and Recording App capable of recording ANYTHING on your Mac's screen and saving it in POPULAR video or audio formats for making professional video demos, screencasts, presentations, and more!

»
The Easy-to-Use and Super Handy interface, updated with a fresh new look, lets you record the contents of your entire monitor while also capturing any online streaming videos, your microphone, or your computer audio.

»
Capture What You're Seeing and Doing

Launch any apps, videos, webpages, or webcams that you want to capture, select an output preset, and then click 'REC' button to start recording everything that happens on your screen. It's really that easy!!


»
Highest Quality Screen Recording

Retina display? No problem. This app enables full-screen resolution screen capture with brilliant detail.


»
Superior Export Quality & Speed

Export your screen recordings as QuickTime, MOV, MP4, MKV, XviD, AVI, iPhone, iPad, Android, or MP3 format, ready for sharing to the Web or directly to YouTube, Vimeo, Facebook, Google Drive, Apple devices, your website, blog, etc.!

»
Try it now and you'll see why Any Screen Recorder is the best screen capture and recording tool in the App Store.
Download Free Version >>
»
Easy-to-use and intuitive interface enables you to handle this screen recorder quickly. The whole recording process is as easy as 1-2-3.


»
Capture anything and everything on your Mac's screen with excellent output quality.

»
Record your desktop in Full-Screen or in a Specific Area (with capture preview).

»
Record audio from your computer or make your voice narration when recording your computer's screen.

»
Record online video and video calls with audio playing on your Mac.

»
Provides many output presets for popular mobile phones, tablets, devices, and video formats. Save your screencasts to fit your device without further settings.

»
Customize the resolution and frame rate for the output video.

»
Capture cursor of mouse movement to record what you do on the screen.

»
Set timer to stop recording automatically.

»
Enjoy shortcuts and other nifty features for quick screen grabbing.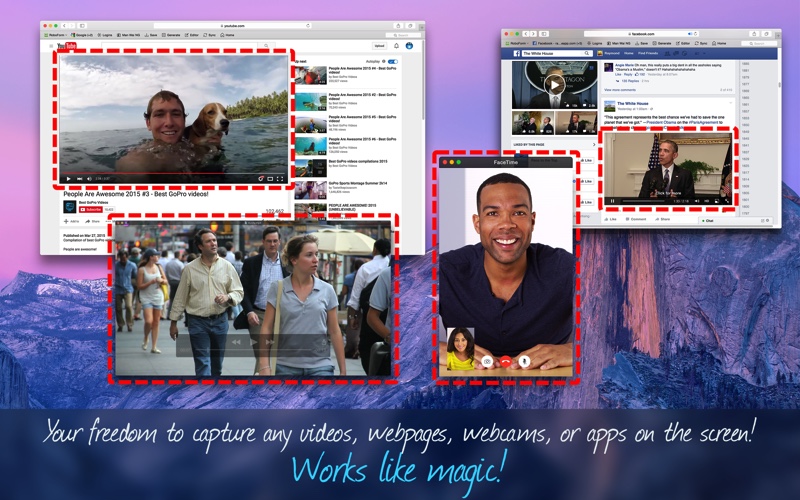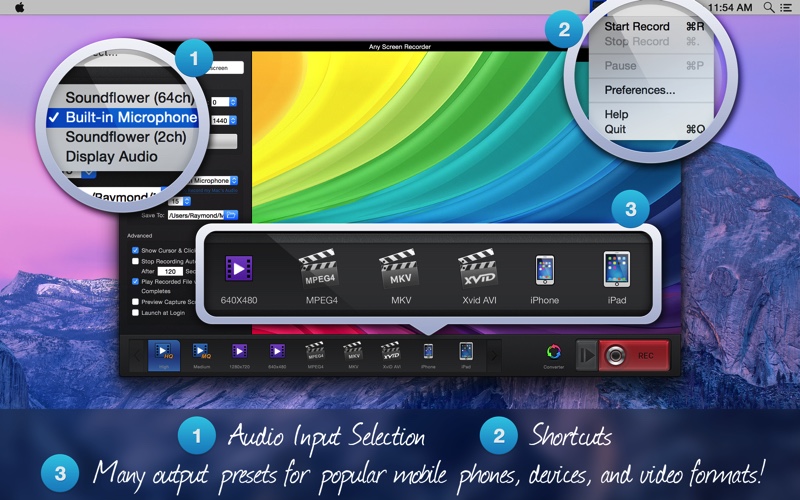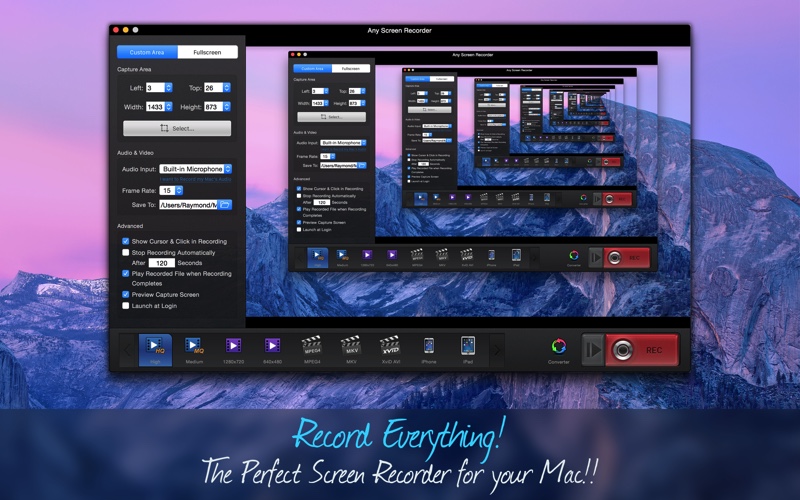 »
Any Screen Recorder HD Pro is available right now. It has no restrictions and provides much more to help you get the most out of your video captures.
Download HD Pro Version >>